oh my!

So, I've really had nothing to talk about...I think I must be boring everyone. :x Just keeping busy with this summer, trying to get as much activity in as I can. The inevitable is coming. In 9 days Nicholas and Martin will be heading back to Toronto. *sigh* I don't really want to think about it too much, I don't want to spend the last few days gloomy.

So....on my travels I found these at giant tiger. They are bookshelves with 3 compartments. I wasn't sure if they would fit the cropper hopper holders but they did!!! It wouldn't have been a loss anyways, because I am sure I would have found use all over the house for these! I have 2 in my kitchen as well. The extra space is welcome in my currently tiny kitchen in a rented house. *sigh* Anyways, the best part....these were under 10 bucks each!!!!

If you remember (not so long ago) I spilled coffee all over my paper!
:( The spot where these shelves sit, is where I had my paper holders sitting! It's where my coffee went flying, all the way to the white carts there. Anyways, I've been on a paper buying mission, so hopefully I will have this full in no time. I would have, if not for my little accident. :X


(Click on any images to make them larger)

A closeup, you can see how well the cropper hoppers fit in there.
I couldn't help sharing this little nifty thing-a-ma-bobber. It came with some stationery I bought at Home Sense and it works PERFECT for storing those cute little versa ink stamp pads. I (usually) get 2 in my Just Cre8 kits, so this is filling up fast! But, it's stored so neatly and sooo easy to grab and use. BTW...the geek in me has them sorted by lowest to highest number. haah!
So, there's a sketch site that is called,
Creative Scrappers
. I used the current sketch on the blog to create this layout. The reason I am pointing this layout out, is for you to notice the only bit of patterned paper on it. The paper itself is nothing special, from a rob and bob holiday slab. But, what I want you to notice is the scallop edge with the little holes... yes, that. WELL!! I've been coveting that darn, elusive Threading Water punch...and I did not get it..and resorted to HAND cutting those little scallops and punching holes! >.<
buuuuut... guess what I found at Michael's today....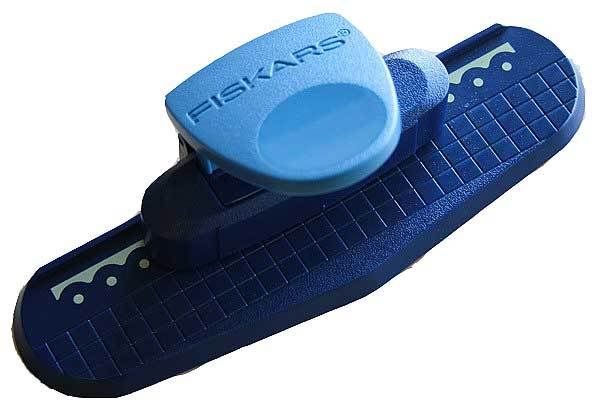 Yay!
That's all I have for now. I'll be picking out a ribbon kit to giveaway, and that will be up in a couple weeks, so don't forget to come back!